…began creating jewelry when she was only 14 years old. A decade later, she was working in downtown New Orleans, near the French Quarter doing repair and restoration of fine and antique jewelry.
"I grew up in the deep south, in southern Mississippi and New Orleans. Old-world families passed on antique and Victorian jewelry. I often had to technically repeat design elements to repair or rebuild those pieces."
"I never intended to be a jeweler or an artist; I studied the sciences and maths for pre-med because my entire family, including my maternal great-grandfather and grandfather, and my father, were all doctors." During Emily's third year in college, after filling a semester with so many math and science classes that there was no room left for her customary art labs, she realized that she needed to be creative; needed to imagine something and then actually make it with her hands. "I realized that I'd planned projects to build all my life, and absolutely needed that to feel balanced and happy." So she got a degree in sculpture from Rhodes College in Memphis.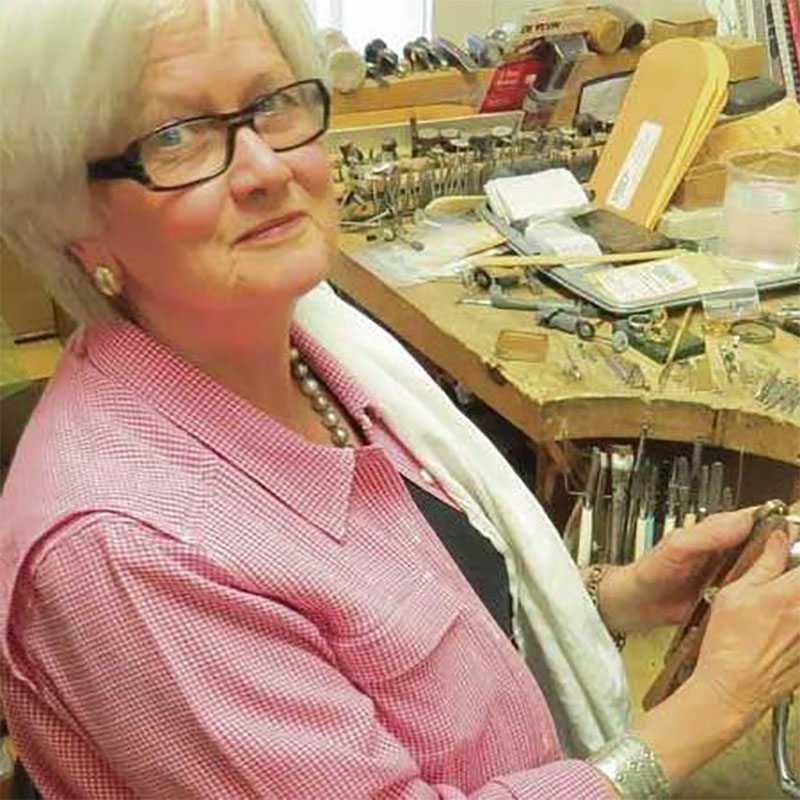 02
But the story doesn't end there…
Across the street was an art academy. She began attending to gain use of the studios and start creating jewelry again.
Tragedy hit when her brother passed shortly after her graduation and she needed to get away. She bought a one-year roundtrip ticket and traveled around Europe and Northern Africa. "I visited museums and jewelry schools. I read, kept a journal and I drew." While there, she attended classes at Hochschule für Gestaltung, Pforzheim, a well-known technical/engineering university. "That year's experience was like four years of college in a one-year time frame."
There, as she had through childhood and university, she focused on studying design, art history, and architecture, fashion, classical proportion. "That library of accumulated images and ideas are in my head and I draw on it to influence and stimulate the designs I make today."
At the Fachhochschule, she was introduced to jeweler and teacher Hermann Schafran. He was taken with her talents and invited her to create in his workshop. She monitored classes with Reinhold Reilling and Claus Ullrich and was trained in old-school German ways…and the rest, as they say, is history.
Emily Benoist Ruffin custom works are hand fabricated using tools that haven't changed much since the 1500s. In fact, many of the tools she has in her Taos, New Mexico workshop are from the 1800s.
A rare mix of artist-meets-scientist-meets-engineer, she designs with an artistic eye, utilizing structural integrity and classic proportions that fit a customer's style and body proportion. She utilizes forms with simple geometry; such as a circle, square, or triangle, in classic or modern – but always beautiful – ways. When designing a piece of jewelry, her imagination is paired with a customer's vision. Then employing experience and exacting craftsmanship, she creates one-of-a-kind, handmade wearable, durable, works of art.
There's more than just designing a pretty piece of jewelry, she explains further: "When I begin, I always start with a scale image of a person's hand, wrist, etc (anatomy). I then design a piece that will both wear well and be comfortable."
Ruffin's designs have won numerous awards leading to her now international reputation. Among many others, has been the recipient of the prestigious Saul Bell International Award and the American Gem Trade Association's "Spectrum" Award.
Her works have allowed customers to commemorate the most intimate and sentimental experiences of their lives – from births to marriage, and even death. "I first need to understand the emotions and events driving the customer to commission me for a custom piece. I am as honored to remake a particular piece of jewelry to commemorate the loss of a loved one as I am to create something new and special that will be handed down from generation to generation…and everything in-between!"
In 1980, Emily found Taos. In 1983, her workshop found a home on Bent Street.
"I studied to go into surgery or medical research so that I could help people, and at times have suffered feeling jewelry doesn't fill that need. But you know what? I have realized that I AM helping people! I help them put their emotions into something tangible, memorable, emotionally significant, and lasting.
I know I've been successful when the client sees their custom piece for the first time and expresses the exact emotion I've put into it! That small moment in time when they're thrilled and mesmerized by what we've collaborated on and what it has manifested into is what I live for. When a customer expresses the same emotions I felt when making the piece, the entire process becomes a form of true nonverbal communication. This is what I do…and, at this point, what I suppose I'll do FOREVER."